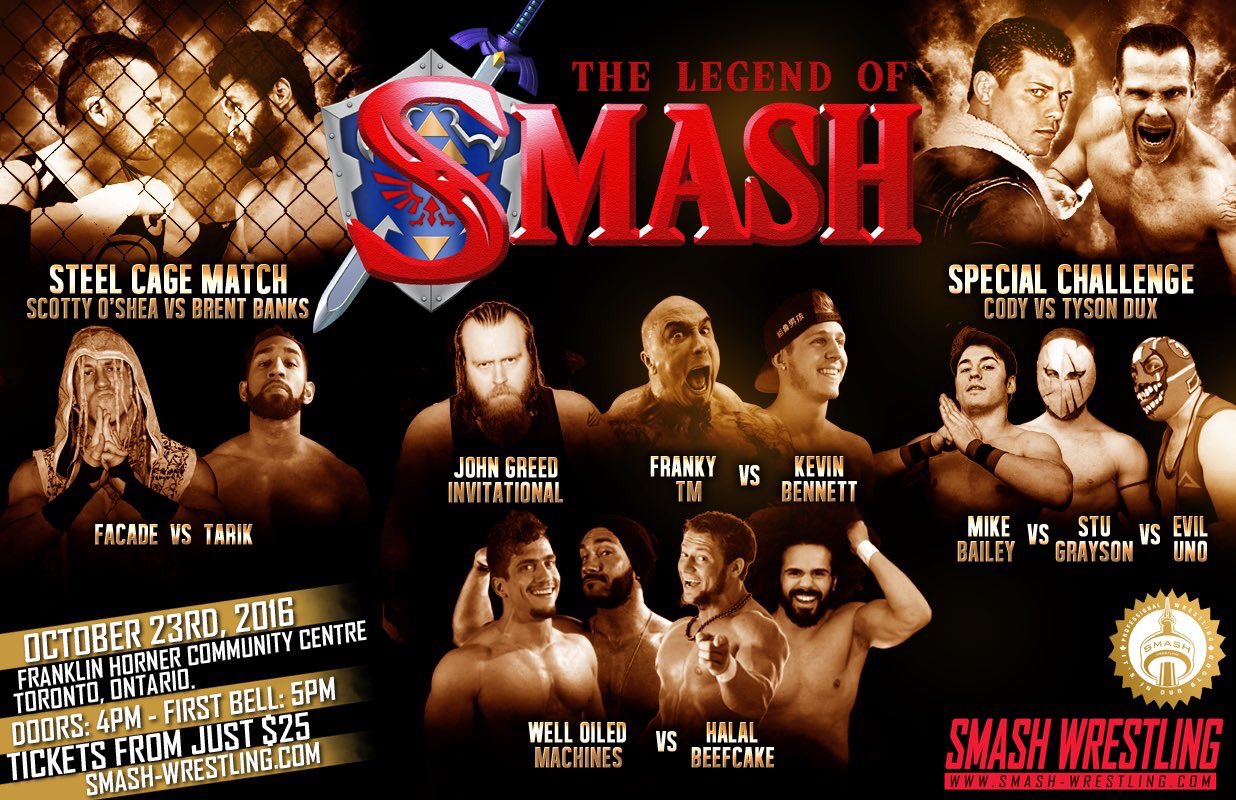 Photo credit via Smash Wrestling
Today at Smash Wrestling The Legend of Smash and history will be made at Smash Wrestling. It is a stacked card including Cody Rhodes as he takes on Tyson Dux. I will provide my overall thoughts for the entire card.
Well Oiled Machines vs Halal Beefcake
This will be a fantastic matchup between two underrated tag team in Smash Wrestling. The Well Oiled have become a staple in Smash Wrestling and they have been my favourite new tag team. As far as Halal Beefcake is concerned, Abe "Action" Jackson and Joe Coleman should be an interesting pairing as a team. Both Abe Jackson and Joe Coleman are underrated workers in the ring, getting to watch them over the years. The Well Oil Machines are too good and too much handle for Halal Beefcake they will pick up the win.
John Greed Invitational
This will be a new direction for John Greed as he has split with Sebastian Suave as a tag team with the Overdogs. I expect John Greed to have an impressive showing and be the last one standing in his invitational.
Kevin Bennett Vs Franky The Mobster
Both Kevin Bennett and Franky The Mobster have gained a lot of momentum currently in Smash Wrestling. Kevin Bennett is the number one contender for the Smash Wrestling Championship, in addition, Franky The Mobster hasn't lost in a very long time. There is no love lost, between the fans and Kevin Bennett they absolutely hate him. However, Bennett always finds ways to win using his bodyguard big Tank and The Muscle. This will be a close contest I can not see Bennett losing his winning streak will continue.
Triple Threat Match
Mike Bailey vs Stu Grayson vs. Evil Uno
This will be an insane triple threat match between three of the most underrated wrestlers in Canada. It is a very rare sight to see the Super Smash Bros against each other. One aspect is for sure that throughout this match will have many high flying spots. As far as a winner is concerned for this contest I am leaning towards Mike Bailey to get the three count.
Facade vs Tarik
Tarik was pissed at night two of Smash Vs Progress because he didn't have a match. Therefore he issued an open challenge to anybody in the back. To everybody surprise, Facade accepted Tarik challenge this match will feature a clash of styles between power and high flying moves between both men.  I do not see Tarik losing anytime soon so he will get the win.
Special Challenge
Cody vs Tyson Dux
I am extremely to see Cody Rhodes ever since he left the WWE and pairing him, against Tyson "Textbook" Dux you can expect an excellent match. I am happy for Cody Rhodes getting the opportunity to have dream matches with anybody on the independent circuit and selling out everywhere. Cody will go over in this matchup no doubt in my mind.
Steel Cage
Scotty O'Shea vs. Banks
In Wrestling moments and feuds are what makes Wrestling so special, today marks the end of a heated rivalry between O'shea and Banks. Their rivalry has been going on for a couple of years now and last month O'Shea was victorious in controversial fashion. Therefore that is the reason why Banks and O'Shea will be a steel cage to settle their differences once and for all. This is another difficult match to predict  but I am going with the one man dynasty, Brent Banks will be victorious it what will be an instant classic.