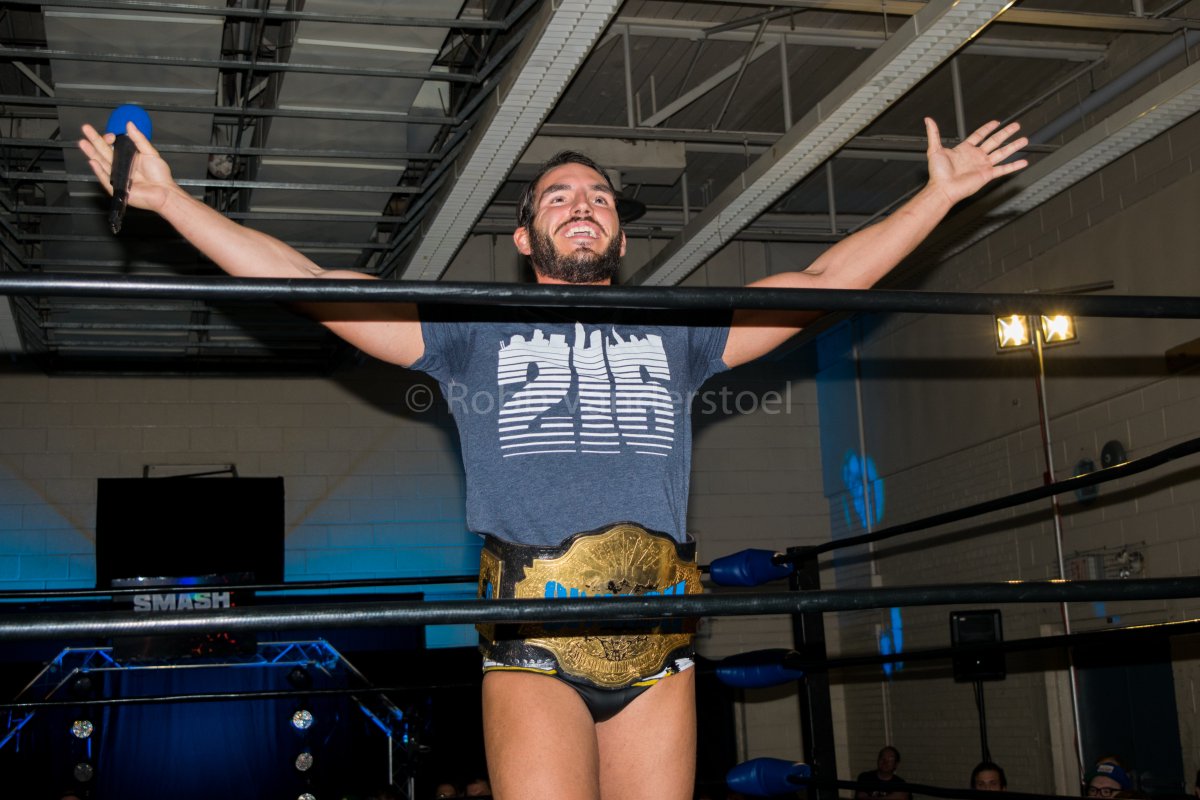 Photo credit courtesy Robb Vanderstoel
On Sunday night Smash Wrestling presented Gold 2K16 which is arguably one of the most important events of the year for the promotion because it helps to figure out the new one contender for the Smash Wrestling world championship. As I always do I will provide my three count in addition to my thoughts and the results.
1) Smash Wrestling invades the UK
Earlier in the night Eric Young took offense when Johnny Gargano called himself King of Canada which Young did not agree and took it personal, Gargano was going to hit D'Amore with the title but Eric Young made the save. Johnny Gargano took on "Showtime" Eric Young with Scott D'Amore in his corner it had a big fight feel to it. This wasn't much of a match it was more a fight they fought everywhere inside and out of the ring. Gargano had to worry about D'Amore so he connected a Super kick to take him out for the mean time.
Then when Jimmy Korderas was distracted then Scott D'Amore came into the ring and laid out Gargano with his own Super kick. After a crazy finishing sequence Gargano rolled up Young for the three count and he retained his Smash Wrestling World Championship. After the match Gargano said he has done everything there is to do in Smash Wrestling. However James Kee the Managing Director of Smash Wrestling came down to the ring and he announced, that Johnny Gargano will be defending his championship at Progress Wrestling live from the UK on June 26 Chapter 32.
2) New number one contender
Continuing tradition all the first round winners would compete in a five person elimination match main event, to crown a new one contender for Smash Wrestling World Championship. It was Courtney Rush, Kevin Bennett, Tyson Dux, Tarik and Franky The Mobster. Courtney Rush was eliminated first because she spit mist in the face of Kevin Bennett. Then the second elimination was when Tyson Dux gave Kevin Bennett a DDT.
The last two men remaining were Tyson Dux and Tarik but Tarik had a brilliant strategy which was to rest on the outside while everybody was beating up each other in the ring. Dux and Tarik were beating the hell out of each other and scored numerous near falls on each other. Tarik connected with a high knee to the back of Dux's head and Tarik was crowned the new one contender for the Smash Wrestling World Championship.
3) Stole the show
I knew that Mike Bailey and Tyson Dux would be an entertaining match no doubt about it but at the same time it was mind blowing. It's exactly what I expected with the tempo and speed of the match fast and slow and Bailey took it to Dux all night long. Dux held his own against one of the best talents in Ontario Dux took multiple stiff kicks and Shooting Star Press with his knees in addition to to insane flips over the top rope. To my surprise Dux got the victory via Crossface submission in only two matches that I got wrong in predictions.
Gold 2K16 Results

Kevin Bennett defeated Facade via a low blow for the three count
Tarik defeated Candice LeRae via a jumping knee strike to the back of the LeRae head
Franky The Mobster defeated Sushi via two handed Choke Powerbomb
Courtney Rush defeated Pepper Parks via a roll up
Brent Banks and Scotty O'Shea defeated The Overdogs
Overall I thought it was another stellar show because Smash Wrestling never disappoints with their shows. James Kee the Managing Director of Smash Wrestling announced some talent that will be featured for Chikara vs. Smash on July 24th such as Matt Cross, Icarus, Space Monkey and Super Smash Bros. In addition it will be Progress vs. Smash for two nights back to back on Sept 17th and 18th all the tickets can be found for these shows at http://smash-wrestling.com/upcoming/ make sure you purchase them immediately.
Like us on Facebook https://www.facebook.com/BeyondThe3Count/
Follow us on Twitter @BeyondTh3Count
Follow us on Instagram@BeyondTh3Count