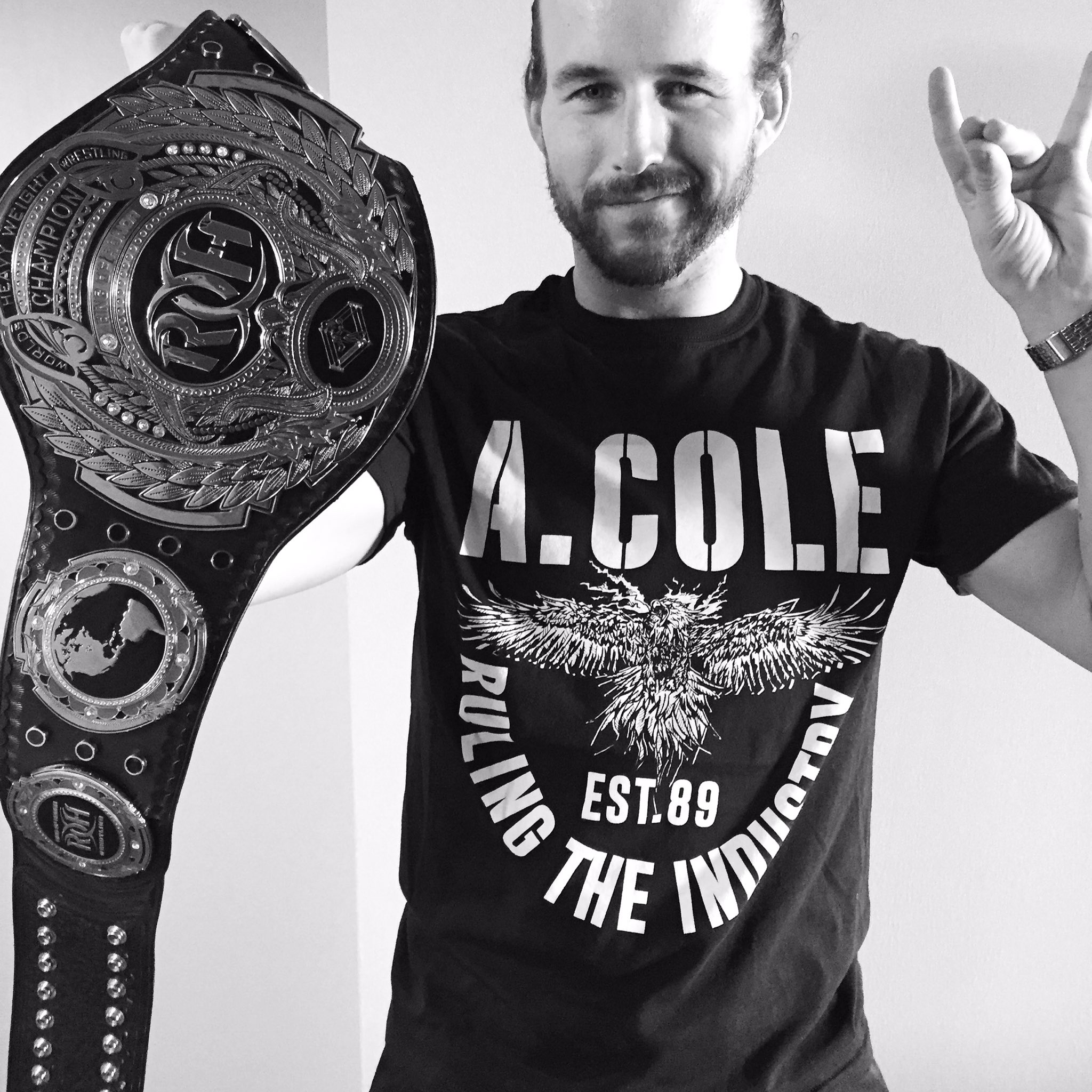 Photo credit via Adam Cole Twitter @AdamColePro
Ring Of Honor kicked off an action-packed weekend that was filled with wrestling PPV's and this was the first PPV Death before Dishonor. As I usually do I will provide you with my three count and my thoughts.
1) New Champion
Adam Cole and Jay Lethal told an excellent story heading into this pay-per-view main event Adam Cole decided to embarrass the ROH Champion by cutting off his dreadlocks. As a result of the ROH, match booker had no choice but to make sure that Adam Cole would not be able to compete for ROH World Champion.
However Jay Lethal had different plans because he wanted a match against Adam Cole in order to his revenge. Being an amazing heel as Adam Cole is he decided to take Lethal's braids out of his trucks and that made Lethal irate. The two went back and forth with chops to each other but Lethal was in control of the match he scored two dropkicks. Adam Cole was placed on the table on the outside and Lethal climbed to the top rope to deliver a flying elbow but he was unsuccessful he crashed and burned as Adam Cole moved out of the way.
The pace of the match was absolutely perfect Lethal connected with the Hail to The King for a two count. The finishing sequence was unbelievable with nonstop action Adam Cole hit Lethal with the Destroyer to Lethal for a two count. It looked like Lethal was going to pick up the win with the Lethal Injection but Adam Cole kicked out at two and gave Lethal the middle finger.
Cole countered a Superkick attempt from Lethal and then Cole connects with the Shining Wizard. Cole hit the destroyer on Lethal only for a near fall then he connected with the last call multiple times on Lethal to pick up the victory. Adam Cole made history and he became a two-time ROH World Champion. After the match Adam Cole celebrates his win but then Kyle O'Reilly was behind Adam Cole and hit him with a Brain Buster, O'Reilly poses with the world title to close the show.
2) Statement victory
This was an interesting situation because it was No Holds Barred match between Adam and Jay Briscoe, these two have had a heated rivalry. The two were beating the living hell out of each other Page. Briscoe gave a Suplex to Page on the entry ramp outside. Page used his rope to choke Briscoe over the ropes Briscoe crashed to the outside. Adam Page hit a vicious Powerbomb to Briscoe on the steel chair. Adam Page was setting up a table at ringside, to give Briscoe the Rite of Passage off the ring apron. Jay Briscoe managed to get out of the move and back into the ring; he hit Page in the mat with a Death Valley Driver.
Page decided to wrap a bull rope around Briscoe's neck he launched Briscoe onto the ring apron. Page went for a Shooting Star Press off the ring apron, but Briscoe countered with a Superkick. Adam Page hit Briscoe with the Rite of Passage through a table but Briscoe was able to kick out at the count of two. Page choked out Briscoe with the bull rope once again, this was followed that up with the Rite of Passage on Briscoe once again Adam Page to pick up the victory.
3) Getting pushed
This was the perfect way to start off the PPV a four corner survival match to crown the new number one contender for the ROH TV Championship. All four competitors Lio Rush, Jay White, Kamaitachi and Donovan Dijak all have a bright future ahead of them. Most of the intense spots through the match happened on the outside. One of the best spots was when Lio Rush hit a reverse Hurricanrana to Dijak. Dijak hit a big boot to Rush that was followed by Feast Your Eyes on Rush to pick up the victory, to became the number one contender for ROH TV Championship.
I thought from top to bottom It was a fantastic card and started a busy wrestling weekend with a bang that would give it an 8/10. Even though I am a fan of Jay Lethal, it was time for Adam Cole to get back his ROH World championship for the second time and start to reclaim his dominance back in ROH.
ROH DBD Results
Katsuyori Shibata defeated Silas Young via a PK Kick
Chaos defeated Bulletclub Yano with a low blow to Takahasi then he rolled him up to pick up the victory.

Kazuchika Okada defeated Dalton Castle via Rainmaker

Bobby Fish defeated Mark Briscoe with the Falcon Arrow Suplex to pick up the victory

The Addiction retained their ROH Tag Team Championship
Tanahashi connected with the High Fly Flow on EVIL. Tanahashi went for the pin, but Daniels used his intelligence and he tagged himself in just as Tanahashi left the top rope Daniels used a jack knife cover and pinned both men to pick up the victory.
Like us on Facebook https://www.facebook.com/BeyondThe3Count/
Follow us on Twitter @BeyondThe3Count
Follow us on Instagram @BeyondThe3Count